Space Quest: Vohaul Strikes Back
Tweet
General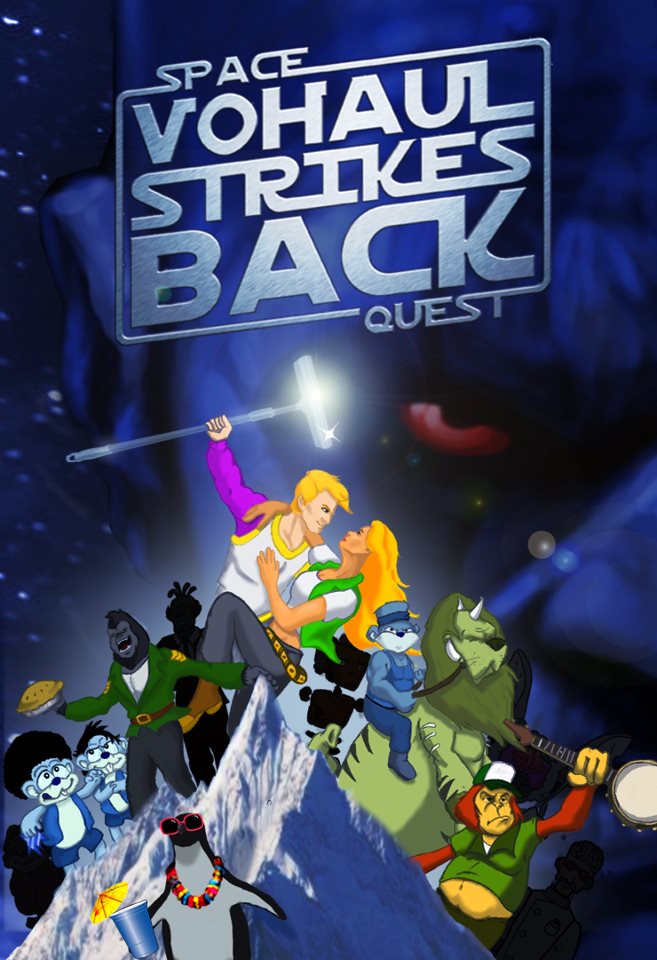 Following the mysterious events of "Space Quest 7", Roger Wilco and his pregnant bride-to-be Beatrice Wankmeister decide to spend some quality time together on Romanticon 7 - the most romantic planet in the known universe. Unfortunately, in the middle of a very intimate conversation, they're interrupted by one of Vohaul's ape-goons with news that Vohaul's mind has been saved from the supercomputer in SQXII and returned to the present to exact it's revenge on Wilco. The goon is promptly disposed of, but the clock is ticking and Roger takes it upon himself to travel to the planet Radon and take care of this Vohaul problem once more. He's defeated Vohaul twice before - what's one more time?

Unfortunately, things get worse once they arrive on Radon. The Aluminum Mallard is destroyed during an accidental missile launch, Beatrice is kidnapped by Vohaul's new right-hand man Never Kenezer, and Roger is left to wander the desolate surface of the ice world with his faithful sidekick, The Narrator. Roger encounters many dangers in his journeys, and must soon help the planet's natives lead a rebellion against Vohaul's operation. Even then, things are never that simple. A choice will be made as Roger delves into the depths of madness to challenge Vohaul in the ultimate mind game and restore peace to the planet.

"Vohaul Strikes Back" is a sci-fi comedy adventure game that has been in production since April 28th, 2002. Founded by Frederik Olsen, who found the idea of fan-made Space Quest installments "pretty cool", the game underwent several major iterations and four staff overhauls. The game eventually settled on five lead developers (Frederik Olsen, Patrick C. Johnston, Andres Kalle, Chris Ushko, and Martin DeMontfort) who completed the game on December 22nd, 2011. Frederik himself supplied most of the game's soundtrack. The game is built in Adventure Game Studio and mixes hand-painted backgrounds with Flash animation. The choice to use Flash animation was made in response to the 50+ original characters and the animation flexibility required to accommodate the game's ongoing redesigns. As for the gameplay, it was modeled after the original mouse interface from the Sierra series (minus a smell function), with a few design elements borrowed from LucasArts games such as floating text and multiple dialog options.

VSB was the first full-length hi-res Space Quest fan-game ever released. It was also the first of the "Big Three", its release being shortly followed by two other full-length games, Infamous Adventure's Space Quest 2 VGA and Box of Mystery's "Space Quest Incinerations" all within a month's time. In terms of puzzles, locations, dialogue and characters, VSB is the largest Space Quest game to date. The team is currently working on a voice pack for Version 2.



External links

- Space Quest: Vohaul Strikes Back at SQVSB
- Space Quest: Vohaul Strikes Back at Wikipedia