Ecoquest 1: The Search for Cetus
Tweet
Walkthrough

Toolbar

Move the mouse to th top of the screen to reveal the game toolbar.





This toolbar contains the standard icons: walking (or mostly swimming in this particular game), looking, using items and interacting with other game characters. The black center window displays the most recently used inventory item. Left click this item for easy access instead of going to the inventory screen. Clicking the backpack will show the inventory window. The red bag is a new kind of icon. It is the recycle action, introduced in this game because of its ecologically educational value. Throughout the game (mostly in Eluria) there will be a lot of garbage laying around. Use the recycle action on the garbage to remove it and get extra points. Clicking the little blue panel will show the control panel window. The question mark is the help icon. Click this icon and then any other icon to get a short explanation of how the icon works.


Inventory screen

The inventory screen is accessed by clicking the backpack in the game toolbar. In this window items can be combined, looked at, interacted with or selected. The selected inventory item will be displayed in the central black window of the game toolbar for easy access.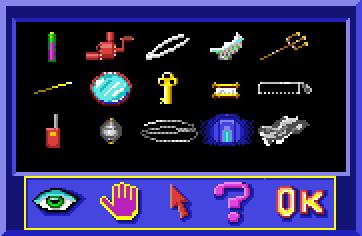 Control panel

Clicking the little blue panel will show the control panel window. In this panel, the player can save, restore, restart, or quit the game. The player can also set the volume, game speed and detail (though this did not have any effect in DOSBox). In the multimedia version of EcoQuest, the player can also chose whether to have subtitles, speech or both. Clicking on the Sierra logo will reveal copyright information and game tips.