Jim Walls
Tweet
Easter Eggs
Police Quest I: In Pursuit of the Death Angel (Egg id: 392)

Enter the following search strings into the computer at the Lytton Police Department:
- "Jim Walls" (designer of Police Quest) results in "Nice ol' family man; former CHiP (not as in cow).
- "Ken Williams" (founder and CEO of Sierra): "Like a civil servant: we can't fire him and can't get him to work."
- "Al Lowe" (Police Quest programmer and creator of Leisure Suit Larry): "Former programmer; author of that cult classic, "Bop-A-Bet!"", also referring to one of Al Lowe's first games.
- "Greg Rowland" (programmer of Police Quest): "Computer renaissance man: artist, programmer, guitarist."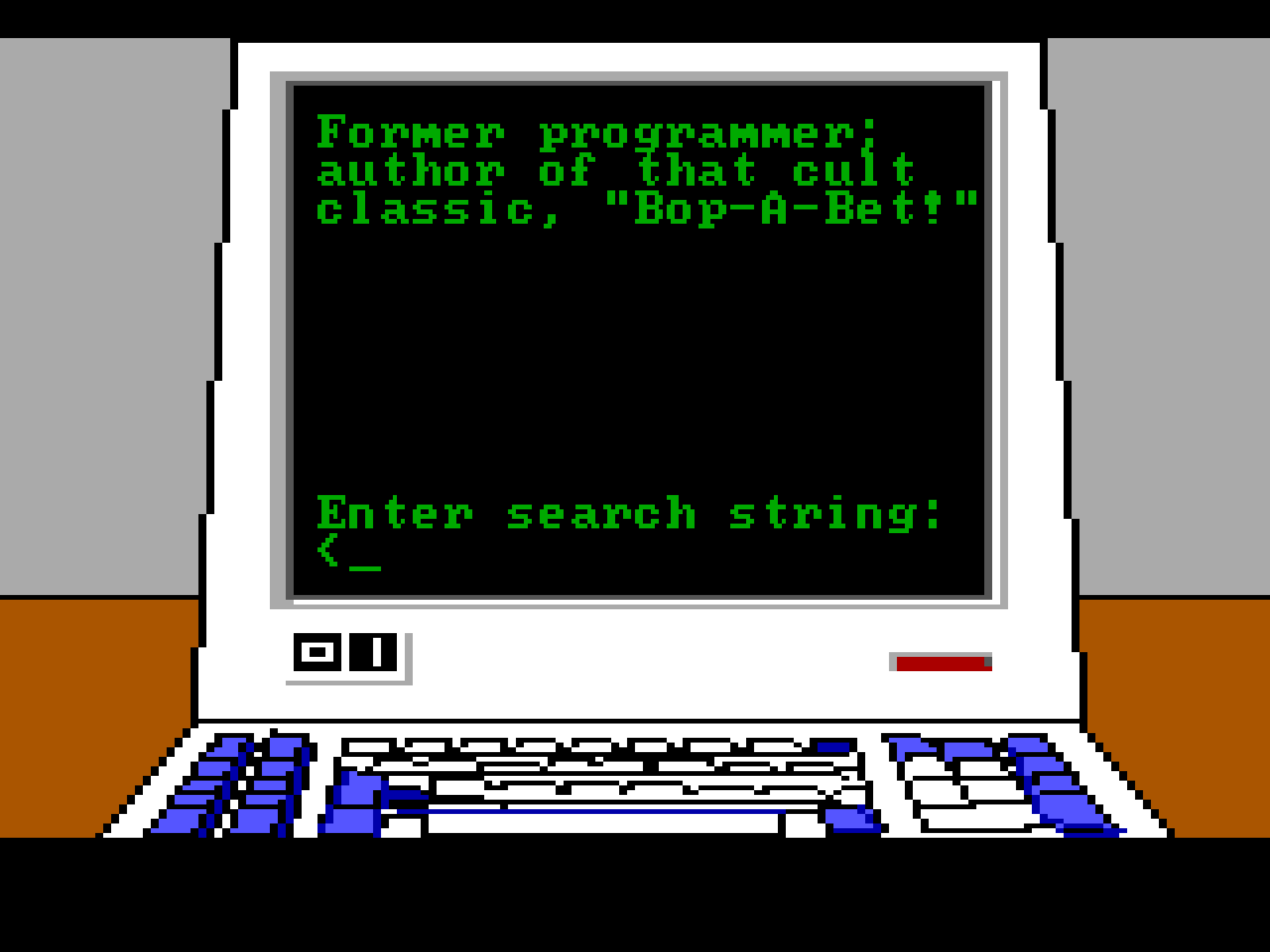 Police Quest II: The Vengeance (Egg id: 424)

At Cotton Cove look at the fence by the phone booth to notice kids have carved their initials in it. Type "LOOK INITIALS" to read them. the first of each pair of initials are initials of the game developers: J.S. is Jerome Shaw (programmer), B.H. is Bob (Robert) Heitman (programmer), B.F. is Bob Fischbach (programmer), C.C. is Cheryl Cornelius (animator and backgrounds), and J.W. is of course designer Jim Walls.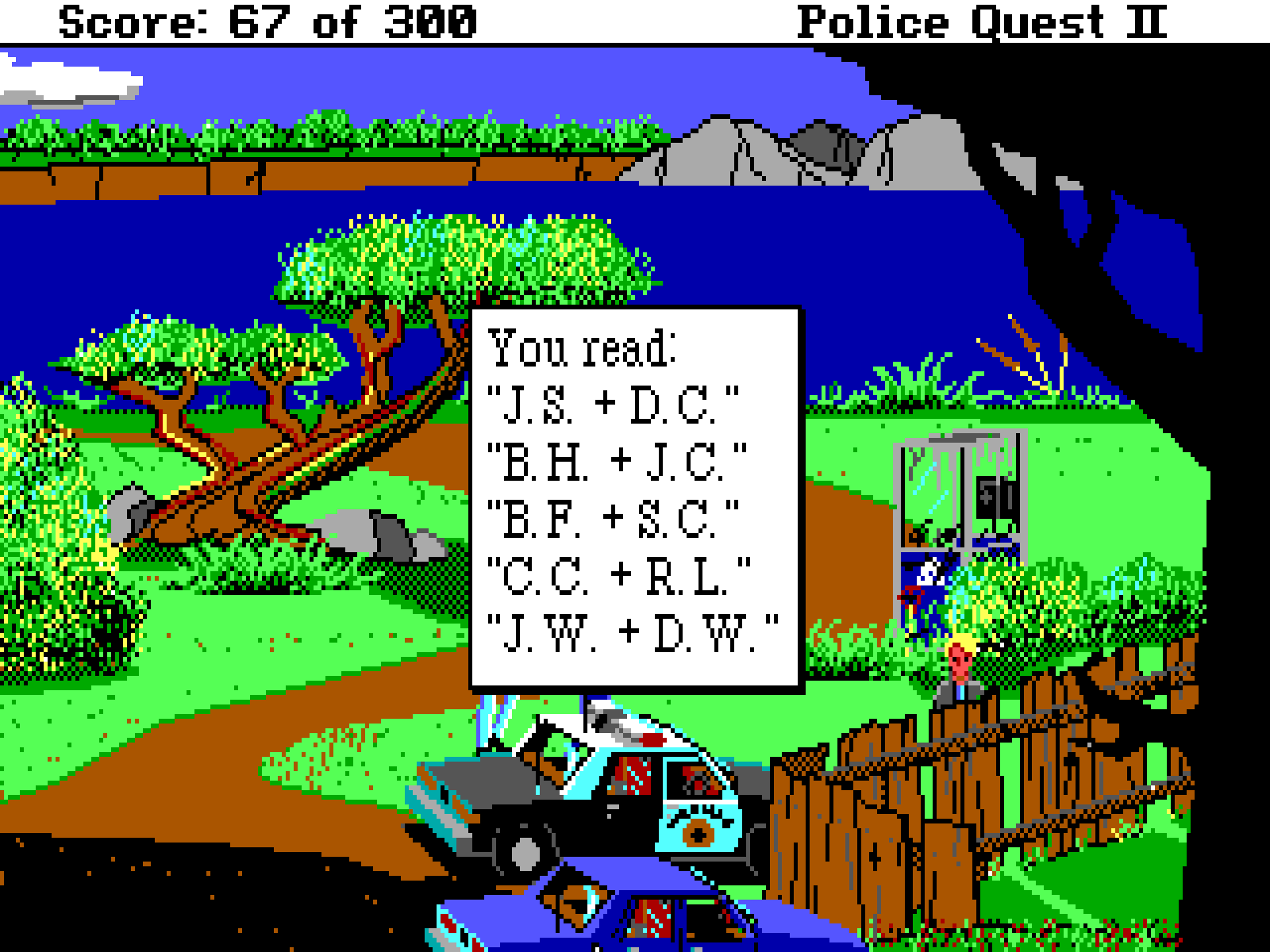 Leisure Suit Larry II: Goes Looking for Love (in Several Wrong Places) (Egg id: 348)
Jim Walls testing Police Quest 2

In the game's resource file, there is a reference to Jim Walls and Police Quest 2 in text040, which refers to the jungle maze on the island after Larry escapes the cruise ship. The text reads: "You discover Jim Walls testing Police Quest II. Jim! You were supposed to be on vacation."

Unfortunately we have not yet been able to trigger this Easter Egg. If you know the command that triggers it, please let us know!


Police Quest III: The Kindred (Egg id: 45)

You'll find a bunch of Sierra employees in the PD's computer system: Jon Bock, Jane Cardinal, Jeff Crowe, Mark Crowe, Carlos Escobar, Frank Ferrell, Desi Hartman, Jane Jensen and more.

Clicking on any of the names will bring up their sheet, often with references to other Sierra games:
- Bock Jon's, Crowe Jeff's, Crowe Mark's, Ferrell Frank's, Jensen Jane's, Larson James', Smith Daryle's division is PQ3.
- Cardinal Jane's, Escobar Carlos', Hartman Desie's, Loyd Cheri's and Morgan Maurice division is LL5 (Leisure Suit Larry 5).
- Crowe Mark's Departmental Action states "Not enough memory to list awards. But he'll be greatly missed." Mark Crowe had just left Sierra to join Dynamix at the time.
- Loyd Cheri's Departmental Action states "A hats off salute for her artistic contribution in PQ2 and Code Name Iceman."
- Walls James (BB), who's division is "designer", Departmental Action states "Outstanding contribution of PQ, PQ2, Code name Iceman to Sierra product line."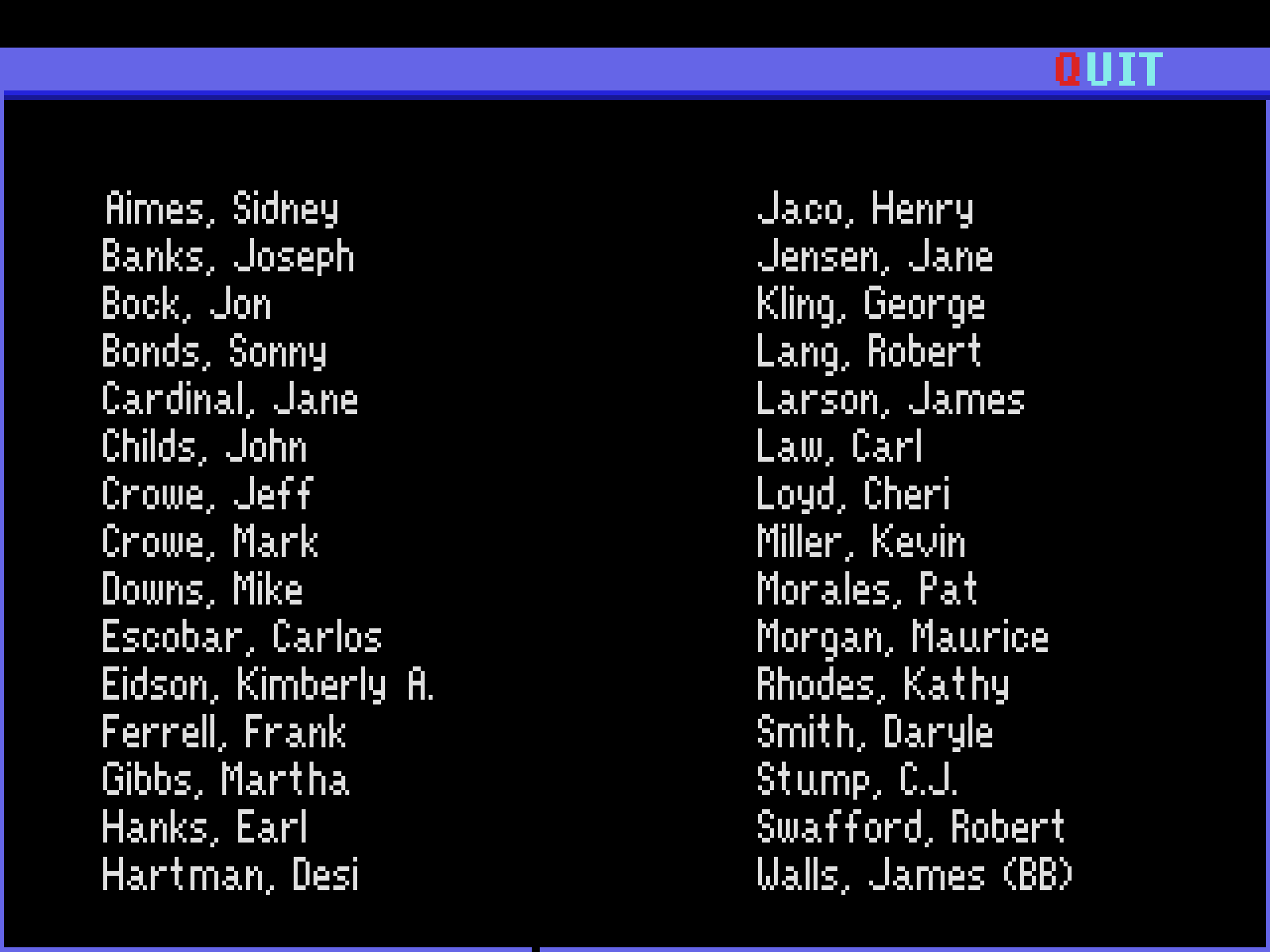 Police Quest III: The Kindred (Egg id: 434)

On day 6, after sabotaging the toilet and asking the janitor to clean it up, go talk to the janitor. He'll talk to himself, saying "Bet it was that Officer Walls again", referring to game designer Jim Walls.