Maurice F. Morgan
Tweet
Easter Eggs
Police Quest III: The Kindred (Egg id: 45)

You'll find a bunch of Sierra employees in the PD's computer system: Jon Bock, Jane Cardinal, Jeff Crowe, Mark Crowe, Carlos Escobar, Frank Ferrell, Desi Hartman, Jane Jensen and more.

Clicking on any of the names will bring up their sheet, often with references to other Sierra games:
- Bock Jon's, Crowe Jeff's, Crowe Mark's, Ferrell Frank's, Jensen Jane's, Larson James', Smith Daryle's division is PQ3.
- Cardinal Jane's, Escobar Carlos', Hartman Desie's, Loyd Cheri's and Morgan Maurice division is LL5 (Leisure Suit Larry 5).
- Crowe Mark's Departmental Action states "Not enough memory to list awards. But he'll be greatly missed." Mark Crowe had just left Sierra to join Dynamix at the time.
- Loyd Cheri's Departmental Action states "A hats off salute for her artistic contribution in PQ2 and Code Name Iceman."
- Walls James (BB), who's division is "designer", Departmental Action states "Outstanding contribution of PQ, PQ2, Code name Iceman to Sierra product line."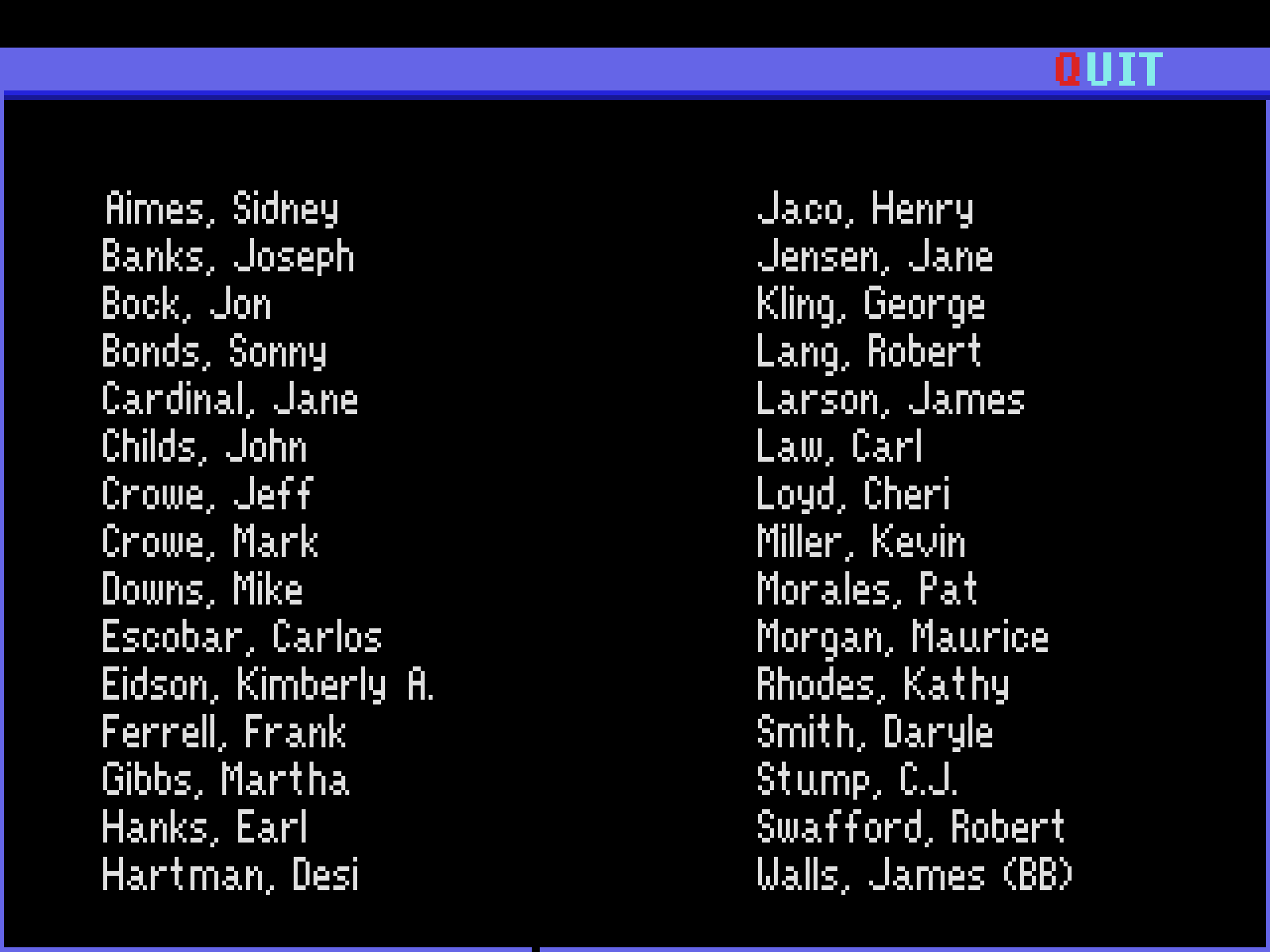 Dagger of Amon Ra: A Laura Bow Mystery (The) (Egg id: 404)

Several paintings in the Old Masters Gallery refer to the game developers:
- one is titled as "Art Is Work" by Fra Bobetto Gleasoni, a reference to art designer Bob Gleason.
- One is titled as "Musings on Cyberspace" by John Wentworth, the Flemish Master, painted in 1533. John Wentworth is one of the programmers of the game.
- One is titled "Trouble on Two Legs" by Dennis Lewis, date unknown. Dennis Lewis was background artist, animator and voice actor of the game.
- One is titled "Two Brothers Drinking in a Tavern" by Rick Morgan, referring to background artist Maurice Morgan.
- One is titled "Cart Before The Horse" by Suzetto Livengoodoni, referring to background artist Suzi Livengood.