Sabotage
Tweet
General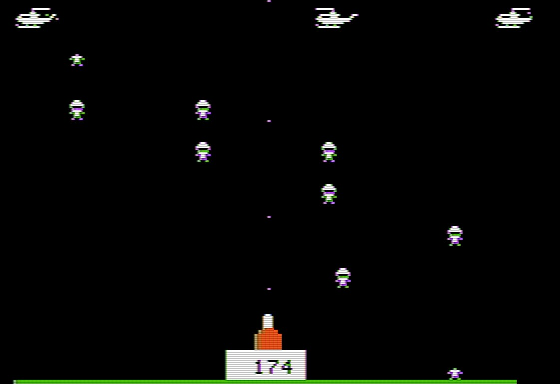 In this innovative game, you take command of a powerful gun base to shoot helicopters and aircraft out of the air. Beware! the opposing have plans to Sabotage your base. Can you defend yourself from the rain of bombs and paratroopers and keep your base in action!

- Written in Machine Language
- quick animation and sound effects.
- Hi-Res color graphics.
- Works great with paddle or keyboard control.
- Conventional and controlled missiles.
- Rapid fire capability-mark and shoot at many targets simultaneously.
- Automatically escalated skill level - the better you get, the tougher "they" get.

Sabotage, developed by Mark Allen and published by On-Line Systems in 1981, was only released for the Apple II and was not re-released as a SierraVision title. Unlike many of the other On-Line Systems arcade games, Sabotage was an original concept rather than a clone of an existing game. Sabotage itself however was cloned and upgraded many times with titles like Paratrooper, Commando Raid, Paratroopers, Paratroop Attack, Green Paras, and more.



External links

- Sabotage at MobyGames
- Sabotage at Wikipedia