Learning with Leeper
Tweet
General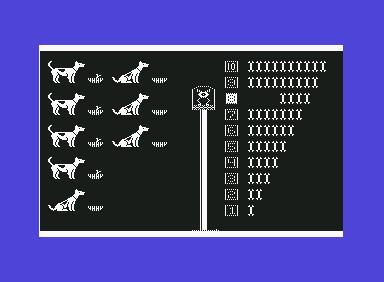 Learning with Leeper, featuring the long-legged alien creature from Lunar Leeper, is an educational game for children aged 3 to 6 years. The game contains four minigames, teaching young children skills such as number concepts, grouping, eye-hand coordination, shape recognition and matching, and creativity.

- Dog count: The object of the game is to feed the correct number of bones to the corresponding number of dogs.
- Balloon pop: The object of this six-level game is to match the display shape by moving the balloon to the corresponding shape at the bottom.
- Leap Frog: The object of this game is to move the frog through the maze with minimal wall collisions. A more challenging maze awaits the successful player the next time Leap Frog is chosen.
- Screen Painting: The object of Screen Painting is to draw and/or paint a picture with an animated paint brush.


The game, designed by 'Bobbit' was released for the Apple II, Atari 400/800, C64, ColecoVision and ZX Spectrum. It had a sequel in 1984, titled Learning with Fuzzywomp, using the same concept of four animated educational minigames.

Learning With Leeper gaining the award for "1984 Best Educational Video Game/Computer Game" at the 5th annual Arkie Awards.



External links

- Learning with Leeper at MobyGames