Colonel's Bequest (the): A Laura Bow Mystery
Tweet
Making of

The Colonel's Bequest design documents (PDF, 8.83MB)

Eight years after the release of Sierra On-Line's first game, Mystery House, Roberta Williams created a new murder mystery game, using the same elements as Mystery House: a spooky old house, suspicious characters, a buried treasure and lots of murders. Of course, unlike Mystery House, this game would support sound, music, colors and 3D animation. What also makes the game different from previous Sierra games, is that it is not quite as puzzle oriented. It's much more story oriented than previous games, and the characters are much better developed. It's more of an interactive story.

Released in 1989, Colonel's Bequest was one of Sierra's last EGA SCI0 games, before the VGA SCI1 game engine became the standard with the release of King's Quest V. Douglas Herring, was the sole animator for the Colonel's Bequest. He also created the backgrounds, along with Jerry Moore. Sierra didn't just have 16 colors, they had dithered fills at that point. For the opening sequence Doug also had a neat multi-plane effect, but unfortunately it was cut because it ran too slow on a 286-16.

Douglas Herring around late 1988, working on the Colonel's Bequest (picture courtesy of Douglas Herring).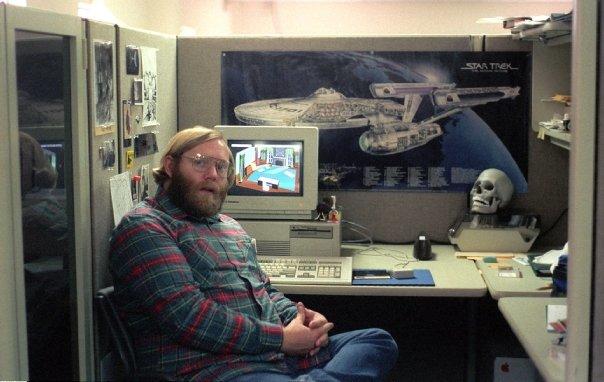 Chris Iden, who also directed the game, and Chris Hoyt, were the 2 programmers of the game, coding around the clock, while Ken Allen took care of the sounds and music. The Colonel's Bequest was created for the IBM PC, Atari ST and Amiga.


Laura Bow character designs by Douglas Herring

Doug was going for the more or less roaring '20's look, including the tall and slender style.