3-D Ultra Radio Control Racers
Tweet
General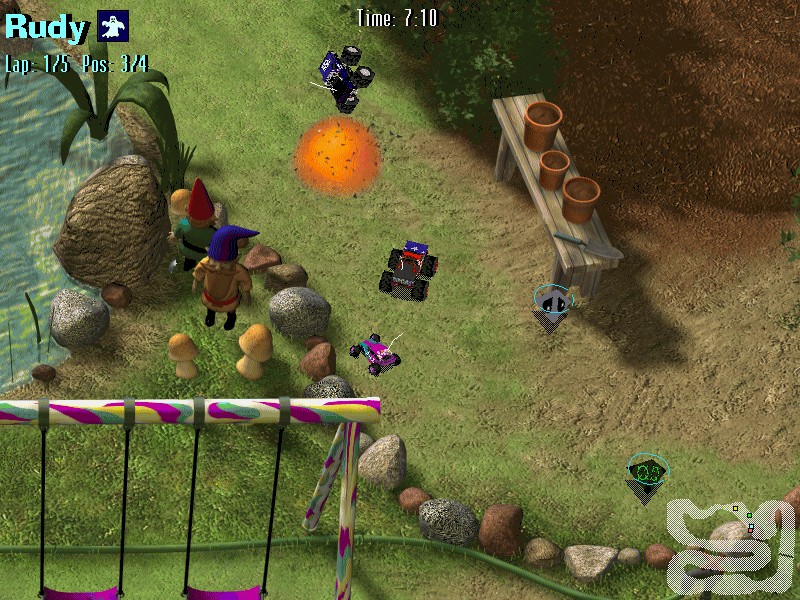 Little cars, huge fun! Select one of four car model and paint it to your desire. Then head for the eight hilarious tracks and make your opponents eat your dust! Play some practice rounds against the computer, or raise the challenge with a one-on-one against a friend in split-screen mode. Each car type has its advantages and disadvantages: the Monster Truck hugs the track and is extremely difficult to knock over but is relatively slow, while the Buggy possesses quick handling and a good top speed but tends to bounce around easily, and the stadium truck and Baja Bug's specifics are somewhat balanced. The player can select easy mode or hard mode, which increases the computer opponents' skills and makes the player's vehicle handling more realistic.

Racing across bumps and jumps, hugging sharp turns at high speed, catching a lot of air or pushing your opponents off the road are however not the only challenges. Dodge bombs from garden gnomes and the dog in the backyard, dodge a sea monster on the mini-golf track, or swirl between the tombs of a haunted graveyard! Each track has its own style, layout and obstacles. And if that isn't enough yet, why not power-up the cars with firecrackers, bottle rockets, electro shocks and other gadgets for some real insane action? The possibilities are endless in this addictive racing game of the 3-D Ultra series.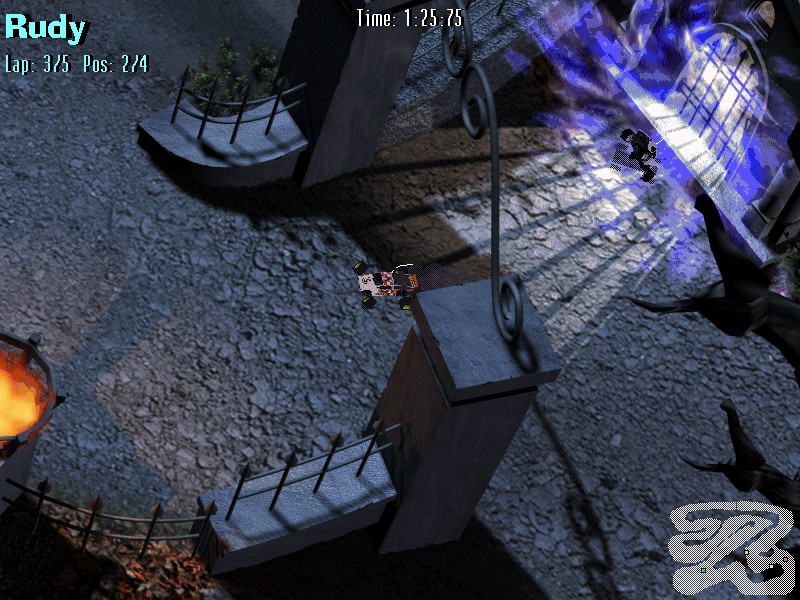 After enough practice, go full career against 15 opponents and earn money on a circuit! Each circuit race consists of a qualifying round and main event. The higher you qualify, the more points you'll earn and the higher the money award that you can use to upgrade your car's tires, engine and shocks. Your cumulative point score is compared against those of the fifteen computer-controlled racers and the top point-scoring racer is declared champion.
Radio Control Racers, designed by Richard Tunnell and directed by Randy Thompson, was later re-released in the expanded RC Racers Deluxe: Traxxas Edition, featuring more tracks, new mini-games, paint jobs, as well as other new features.

Collections and compilations

This title is also included in:



External links

- 3-D Ultra Radio Control Racers at MobyGames