Jack Palance
Tweet
Biography

Jack Palance, born Volodymyr Palahniuk, was an American actor of Ukrainian descent. Known for playing tough guys and villains, Palance was nominated for three Academy Awards, all for Best Actor in a Supporting Role, receiving nominations for his roles in Sudden Fear (1952) and Shane (1953), and winning the Oscar almost 40 years later for his role in City Slickers (1991).

In 1982, Palance began hosting a television revival of Ripley's Believe It or Not!. The weekly series ran from 1982 to 1986 on the American ABC network. The series also starred three different co-hosts from season to season, including Palance's daughter Holly Palance, actress Catherine Shirriff and singer Marie Osmond. Ripley's Believe It or Not! was in rerun syndication on the Sci-fi Channel (UK) and Sci-fi Channel (US) during the 1990s.

Jack Palance was hired by Sierra as a voice actor to narrate the introduction of their computer game Ripley's Believe It Or Not!


Credits
Ripley's Believe It Or Not (2001-06-04)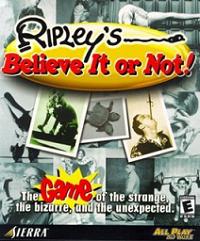 Voice Talent