Leisure Suit Larry III: Passionate Patti in Pursuit of Pulsating Pectorals
Tweet
Easter eggs
Easter Eggs in Leisure Suit Larry III: Passionate Patti in Pursuit of Pulsating Pectorals
Egg id: 141

Sometimes Elvis or Roger Wilco from Space Quest sit in the piano lounge. Talk to Roger or "Help Elvis" for a funny comment.





Egg id: 444

Dale, the manager of Chip n' Dale's is based on Dale Carlson of Sierra On-Line.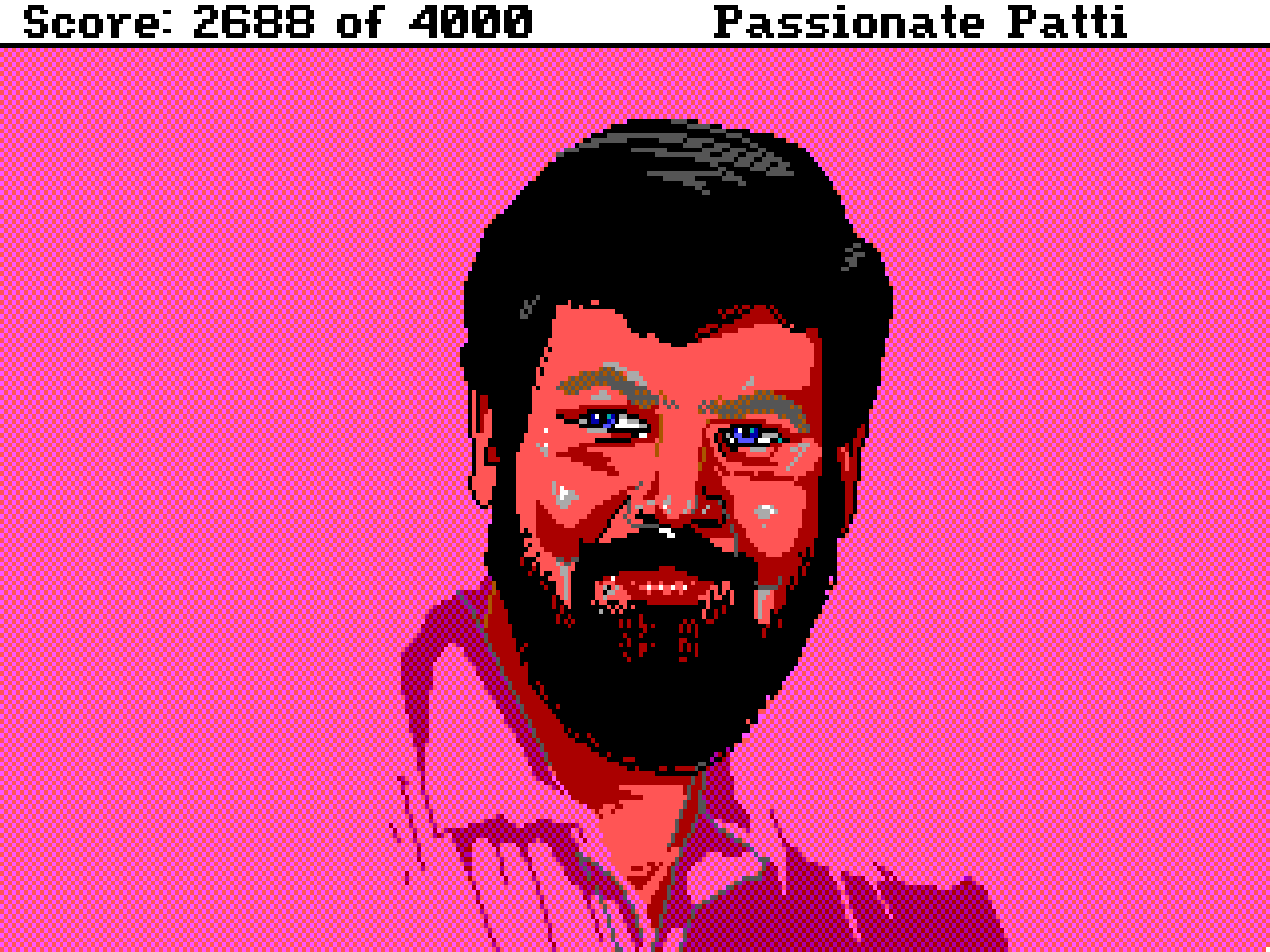 Egg id: 143

At the end of the game, Larry and Patti end up in the studio of Sierra Online. After passing the set of Police Quest, a room with gadgets (referring to the Black Cauldron, Manhunter, Larry 1 and other Sierra titles), and the Space Quest set, they meet Roberta Williams who is shooting the whale tongue scene of King's Quest IV.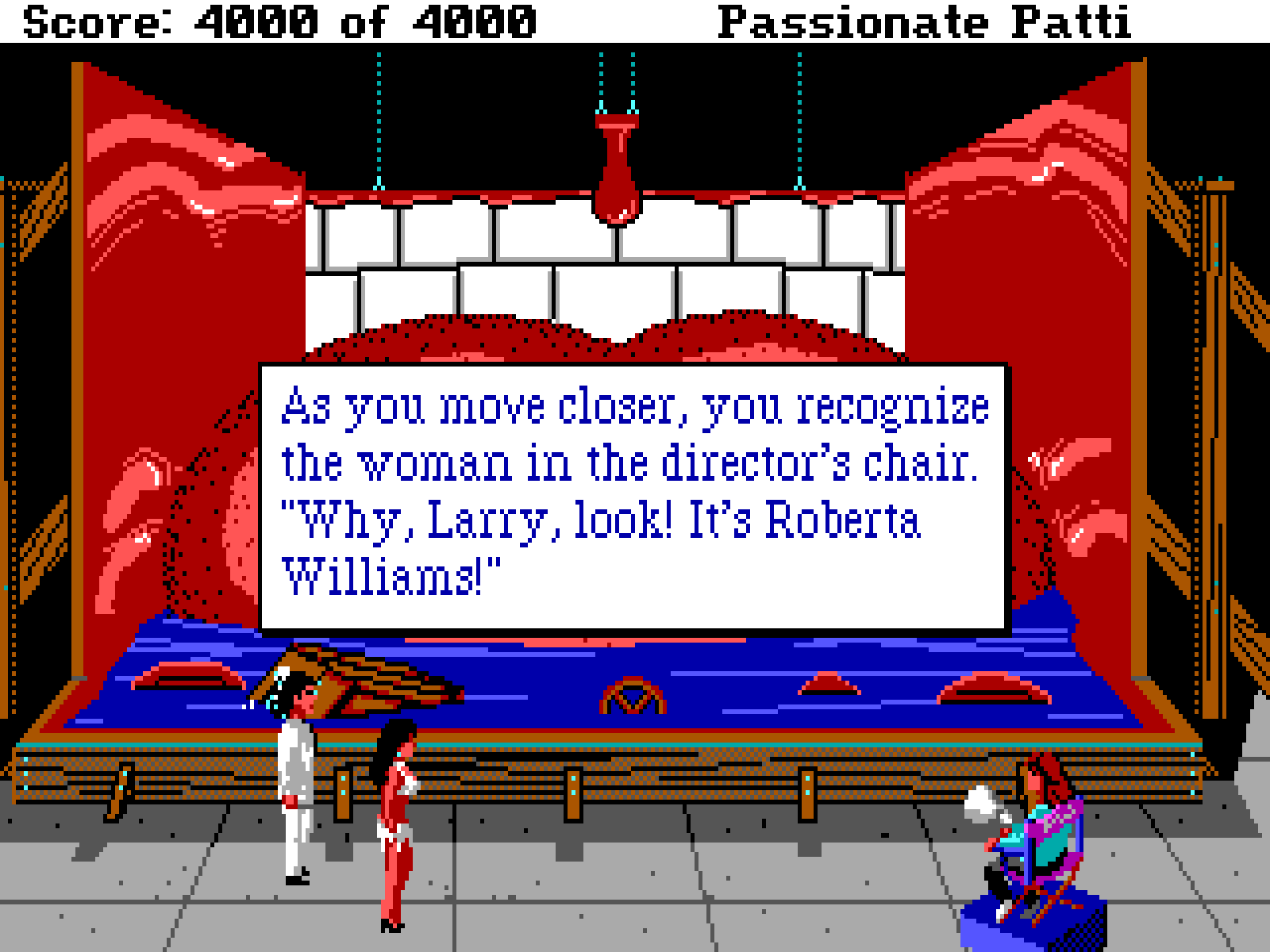 Egg id: 15

Al Lowe and Bill Skirvin make several cameos in the game. At one point they are at the cabana, checking out the bra of a bypassing lady. On another occasion they sit at a table in the Comedy Hut.





Egg id: 316

At the Sierra studio, Larry and Patti walk into a scene of Space Quest 2.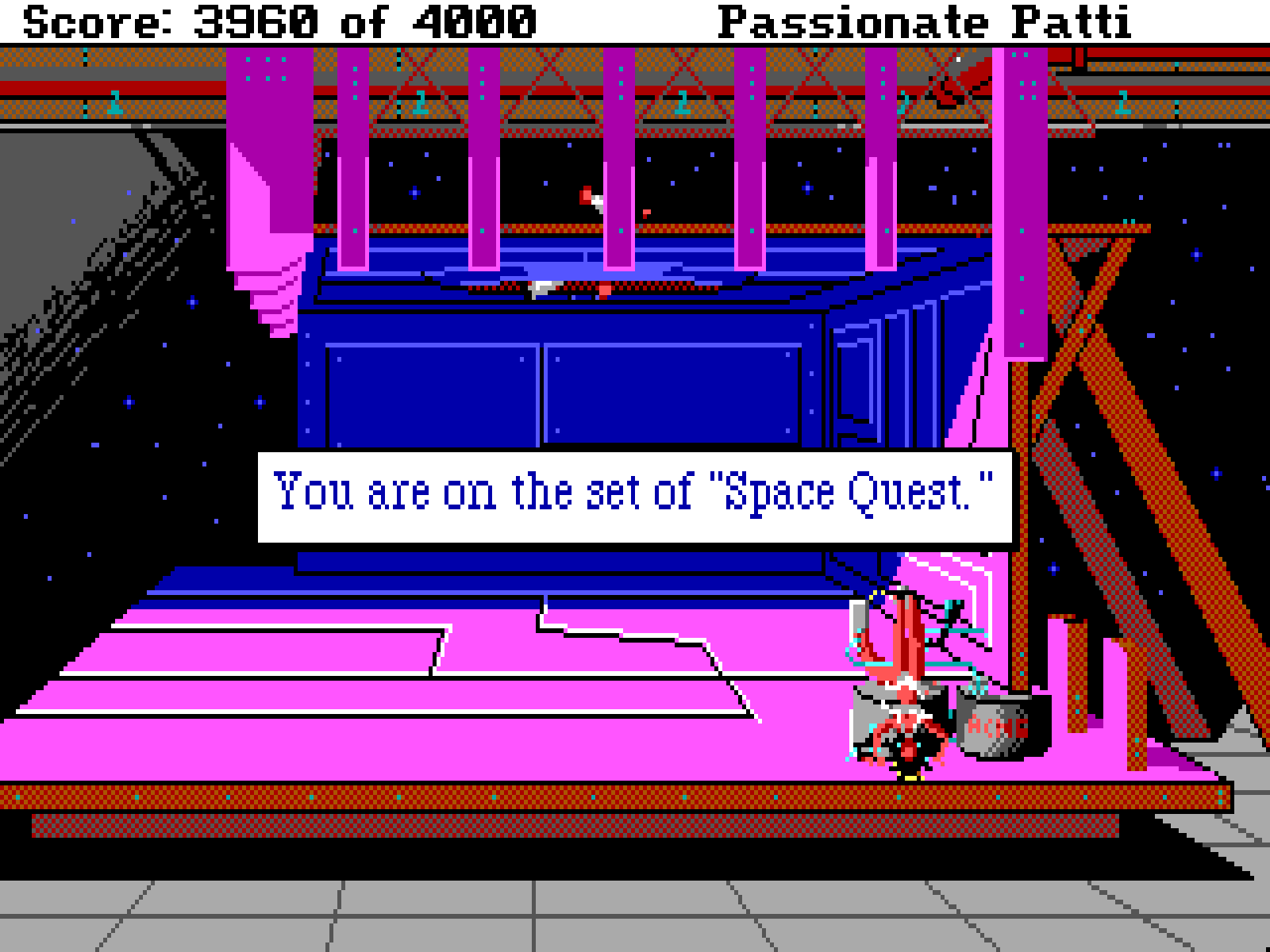 Egg id: 317

At the Sierra studio, Larry and Patti walk into a prop room with many game references:
- The Black Cauldron
- King's Quest 4
- The taxi of Leisure Suit Larry 1
- The insurance agents of Space Quest 2
- targets of Police Quest 1
- Clothes of Manhunter: New York
- The "M" from Monolith Burger in Space Quest 3.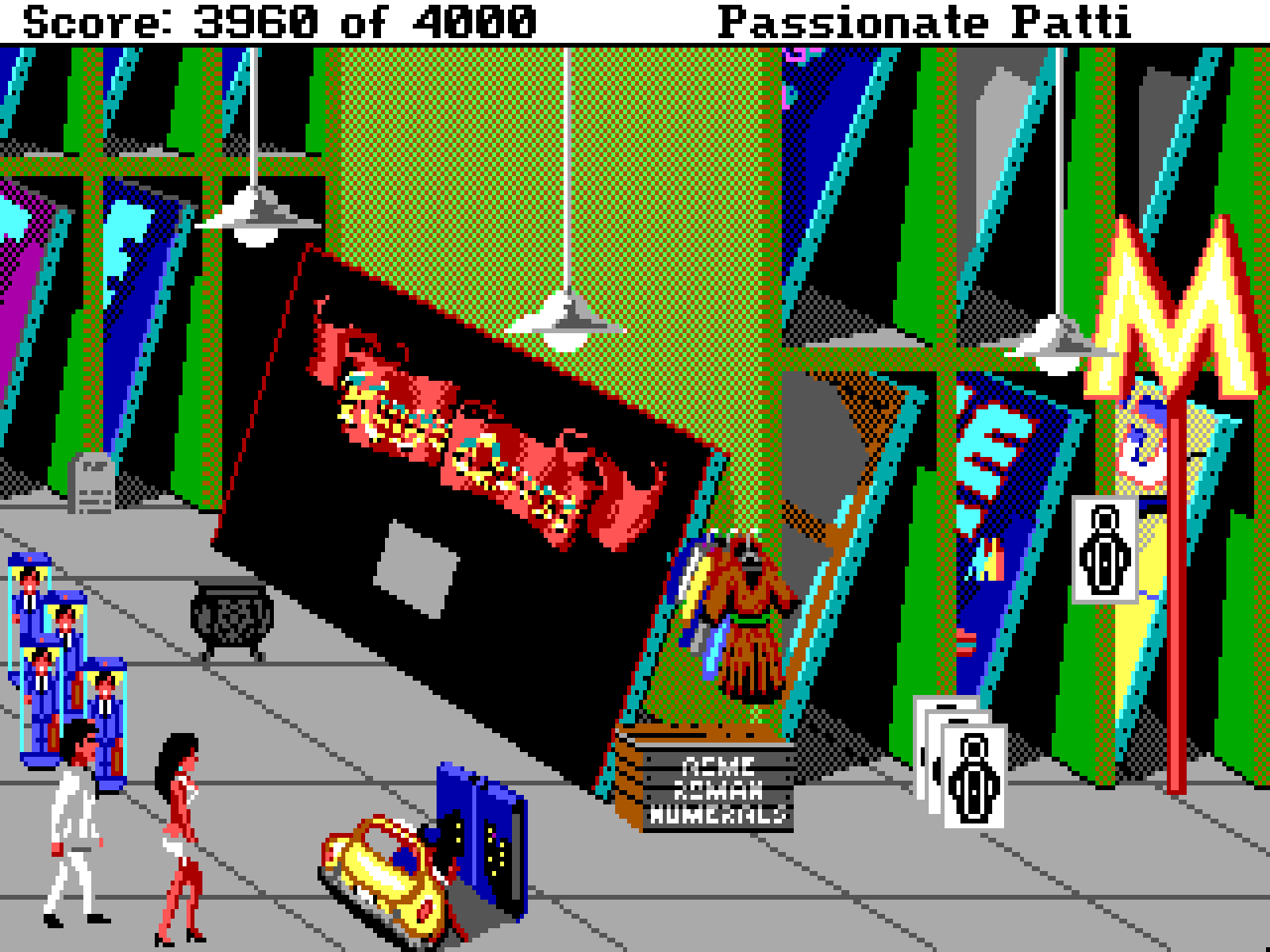 Egg id: 318

Chairman Kenneth of Natives Inc, who was formerly chief Kenneewauwau in Leisure Suit Larry 2, Larry's dad in law, is a cameo of Ken Williams.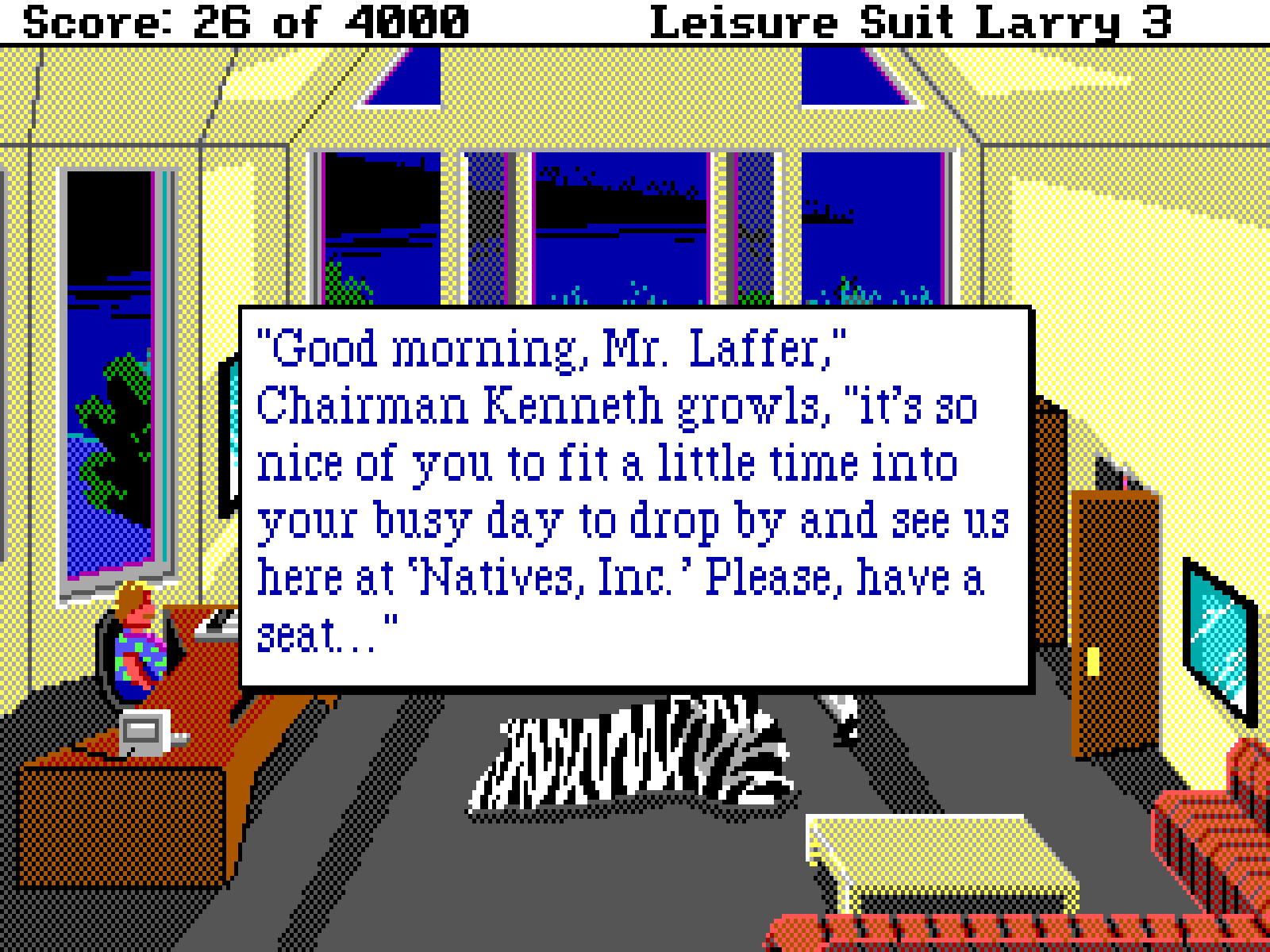 Egg id: 315

Larry and Patti crash into the map of Police Quest 1.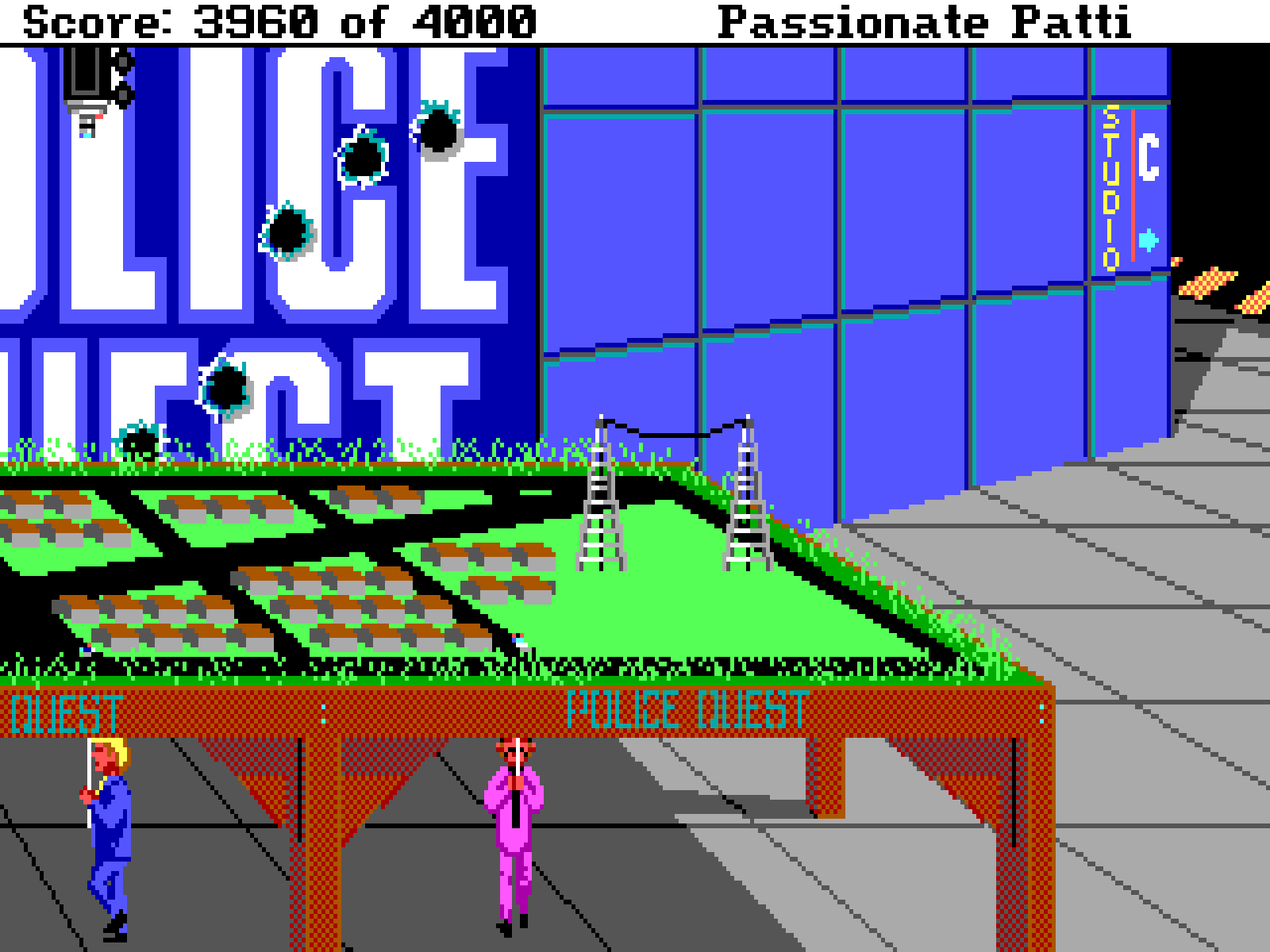 Egg id: 140

When Larry leaves the showroom after his performance, he is so pleased with the money he earned that he makes the following reference.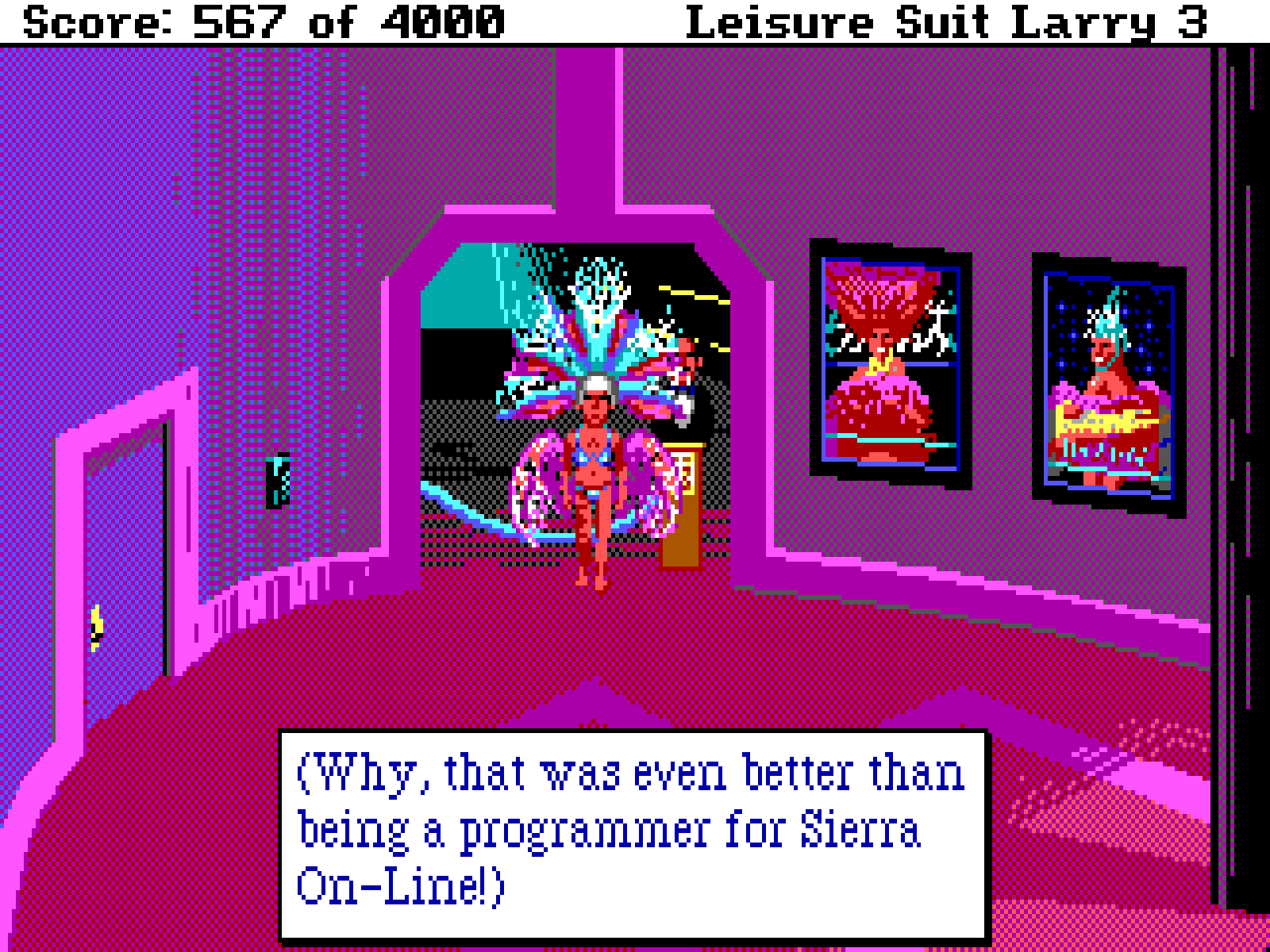 Egg id: 443

At Kalalau's (your former) house type "LOOK GATE" for a reference to finials. Then type "LOOK FINIAL". The game will respond with "Yes, that is a big finial, all right! (It reminds you of a uvula!)". Then type "TICKLE FINIAL" and the game will respond "You've been playing King's Quest IV too long!", referring to Rosella tickling the whale's uvula with a feather.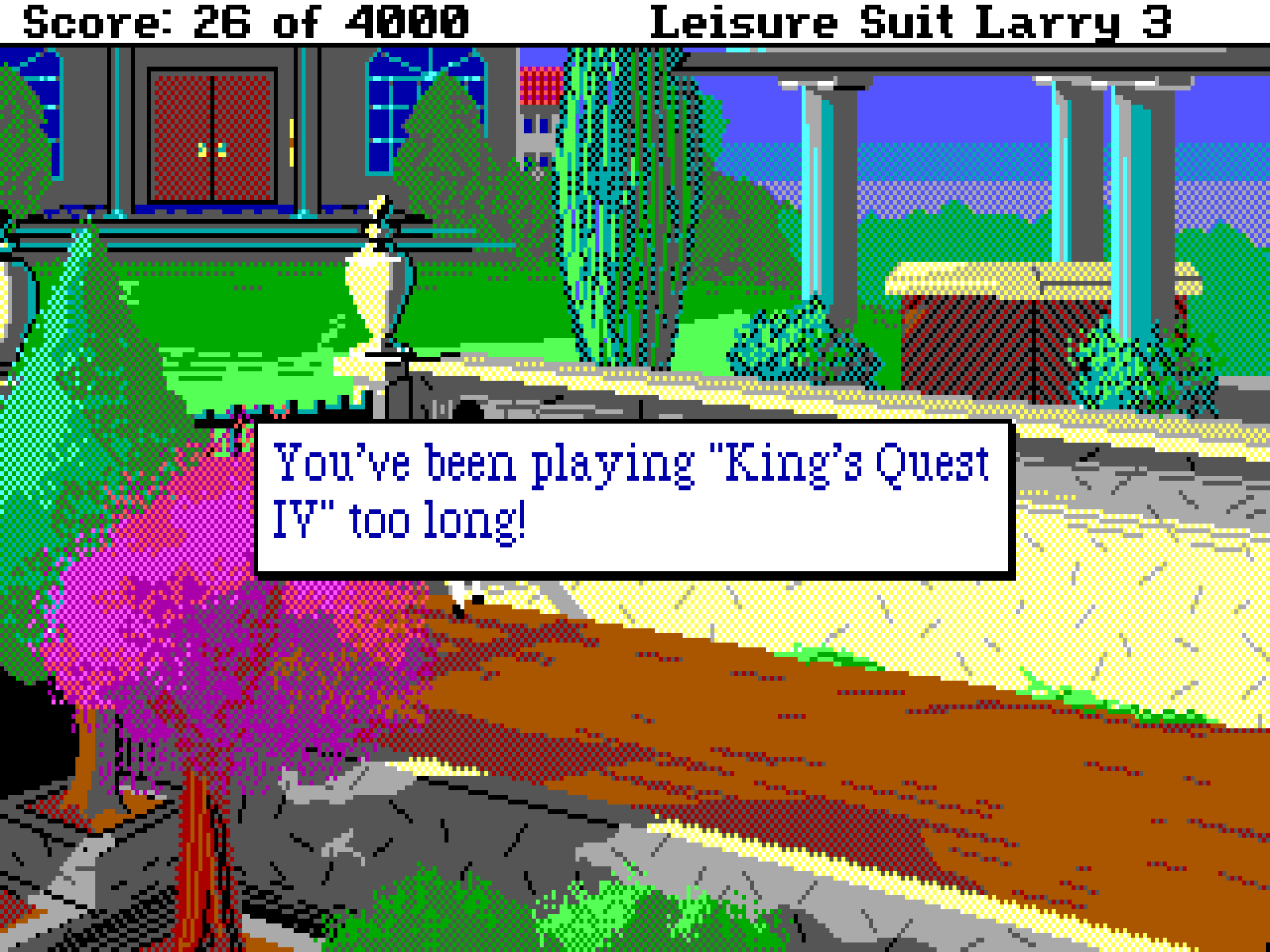 Egg id: 445

When Patti collections the marijuana, type "SMOKE POT" for a reference to Daventry (but save the game first).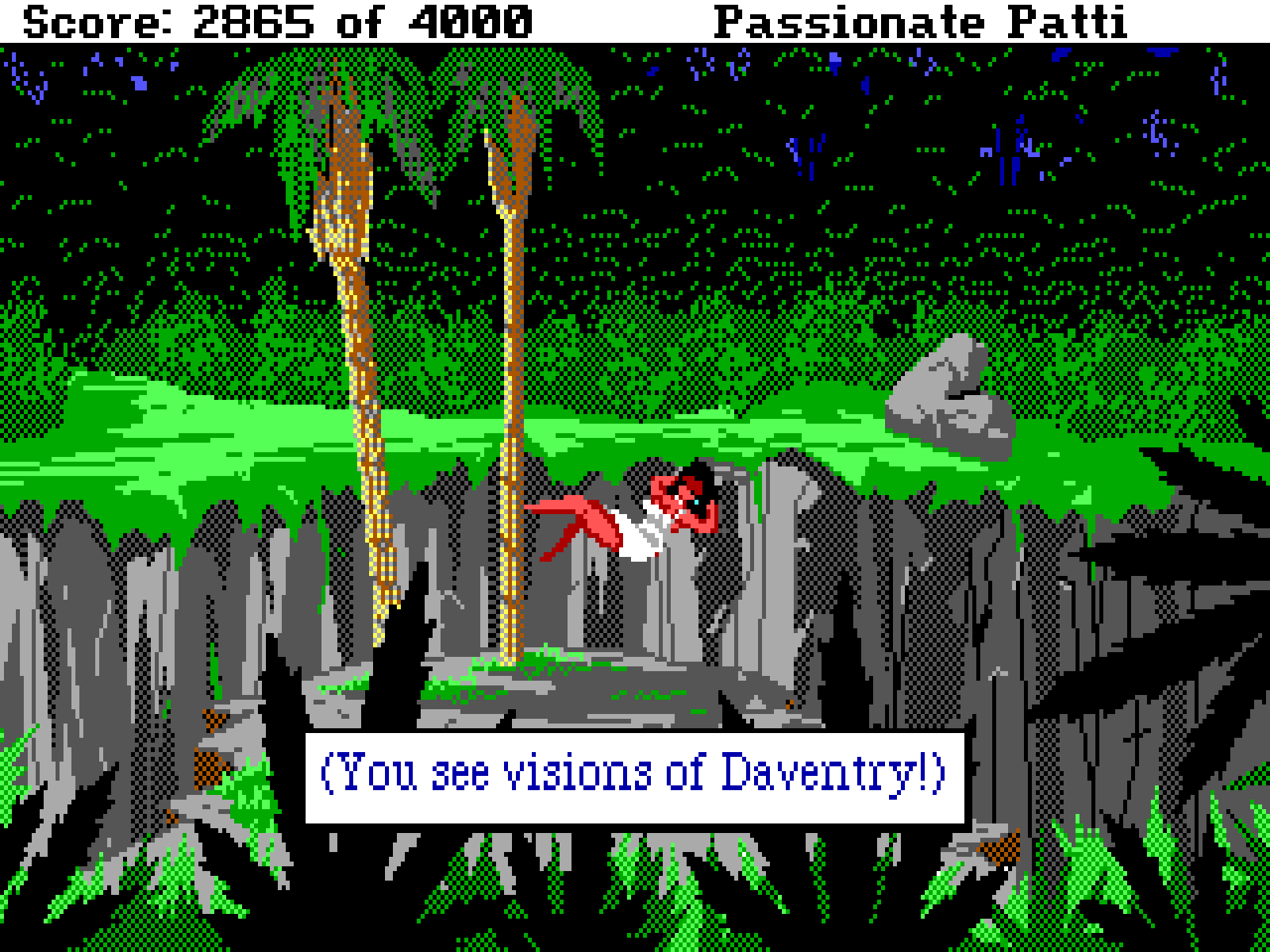 Easter Eggs referring to Leisure Suit Larry III: Passionate Patti in Pursuit of Pulsating Pectorals
Conquests of the Longbow: Legend of Robin Hood (Egg id: 230)

Look in one of individual monk cells in St. Mary's Abbey for a Leisure Suit Larry reference. The cell changes location, but usually appears to be near the upper right side.


Leisure Suit Larry II: Goes Looking for Love (in Several Wrong Places) (Egg id: 362)

Introducing Patti

At the end of the game Polyester Patti introduces herself as a new protagonist for Leisure Suit Larry 3.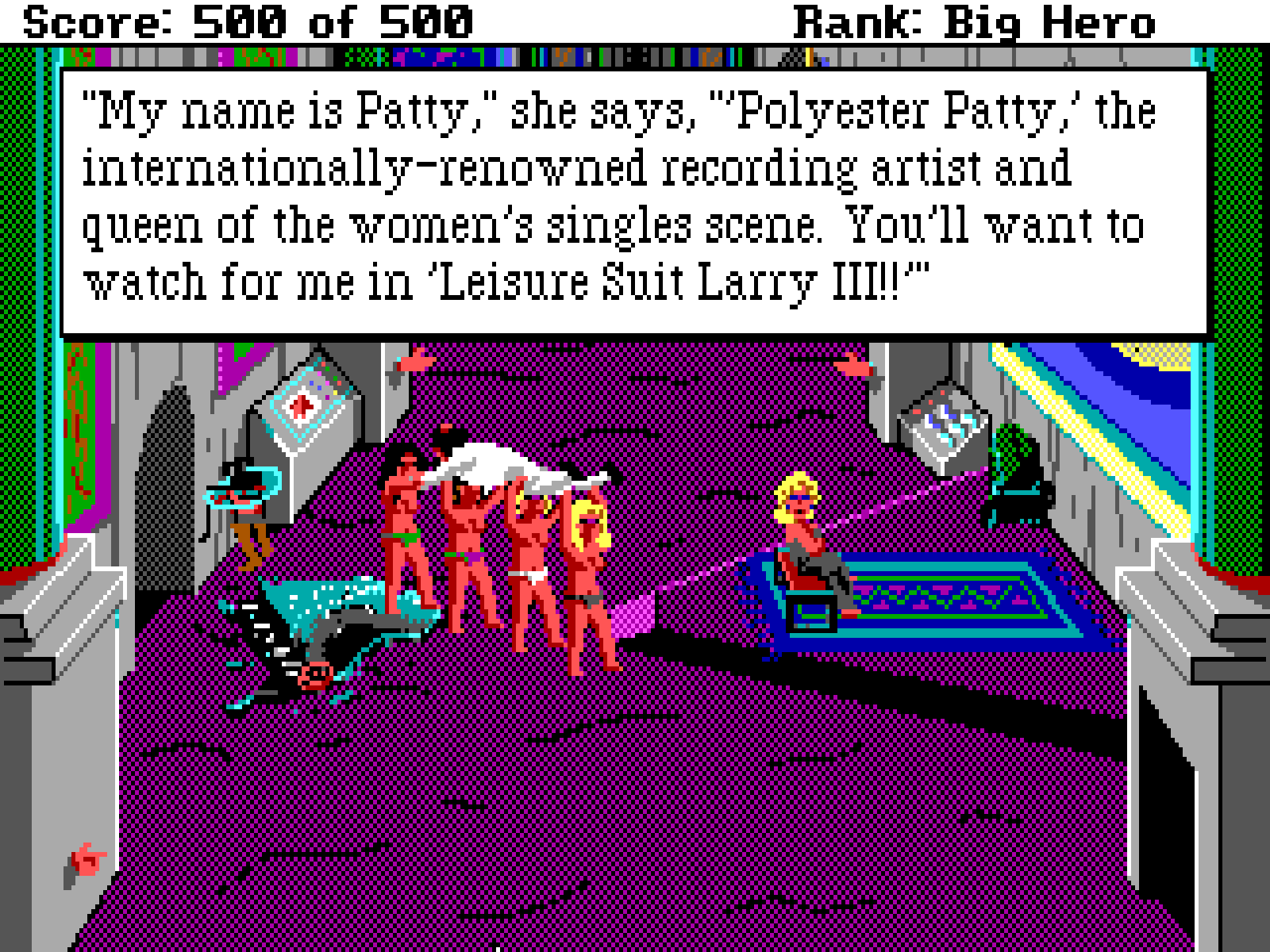 Police Quest II: The Vengeance (Egg id: 422)

In the homicide office, use your phone to call the Sierra Customer Support Line: (209) 683-6858.
When you call this number there is also a 30% chance that Al Lowe (designer of Leisure Suit Larry) answers the phone. He'll say the following:
Hi This is Al; Al Lowe.
Well, hello Sonny Bonds. I don't know how you got me --must have been a bad connection. But since you sound like a potential customer, let me tell you about a new game out.
I just finished a great game called Leisure Suit Larry Goes Looking for Love in Several Wrong Places (LL2 for short).
You'll love becoming Larry Laffer, who's a little bit like all of us - a jerk, a nerd, and a loser.
But you can help Larry improve his self-esteem by finding the girl of his dreams.
So how does it sound?
Well go to the nearest software store and buy a copy - the funniest and funnest game I've ever played - and I'm sure you'll like it just as much as I do.
If this sounds like a promo, it is. But then why else did you call me?
Please note though, that Leisure Suit Larry is NOT, I repeat NOT, based on my own personal experience.
I gotta go now. I'm working on my new game "Leisure Suit Larry III featuring Polyester Patty."
Oh, and by the way, "Have a nice day".


You can also call Sierra's BBS line (which tells that BBS is so popular that all 16 lines are busy): (209) 683-4463