Leisure Suit Larry III: Passionate Patti in Pursuit of Pulsating Pectorals
Tweet
Easter eggs
Easter Eggs in Leisure Suit Larry III: Passionate Patti in Pursuit of Pulsating Pectorals
Egg id: 141

Sometimes Elvis or Roger Wilco from Space Quest sit in the piano lounge. Talk to Roger or "Help Elvis" for a funny comment.


Egg id: 142

When playing as Patti, you can enter the Chip 'n Dale's without paying the doorman. Just type "suck cock" and enjoy the smirk on his face! You do not get points for it though.


Egg id: 143

At the end of the game, Larry and Patti end up in the studio of Sierra Online. After passing the set of Police Quest, a room with gadgets (referring to the Black Cauldron, Manhunter, Larry 1 and other Sierra titles), and the Space Quest set, they meet Roberta Williams who is shooting the whale tongue scene of King's Quest IV.


Egg id: 15

Al Lowe and Bill Skirvin make several cameos in the game. At one point they are at the cabana, checking out the bra of a bypassing lady. On another occasion they sit at a table in the Comedy Hut.


Egg id: 316

At the Sierra studio, Larry and Patti walk into a scene of Space Quest 2.


Egg id: 317

At the Sierra studio, Larry and Patti walk into a prop room with many game references:
- The Black Cauldron
- King's Quest 4
- The taxi of Leisure Suit Larry 1
- The insurance agents of Space Quest 2
- targets of Police Quest 1
- Clothes of Manhunter: New York
- The "M" from Monolith Burger in Space Quest 3.


Egg id: 318

Chairman Kenneth of Natives Inc, who was formerly chief Kenneewauwau in Leisure Suit Larry 2, Larry's dad in law, is a cameo of Ken Williams.


Egg id: 315

Larry and Patti crash into the map of Police Quest 1.


Egg id: 140

When Larry leaves the showroom after his performance, he is so pleased with the money he earned that he makes the following reference.


Easter Eggs referring to Leisure Suit Larry III: Passionate Patti in Pursuit of Pulsating Pectorals
Conquests of the Longbow: Legend of Robin Hood (Egg id: 230)

Look in one of individual monk cells in St. Mary's Abbey for a Leisure Suit Larry reference. The cell changes location, but usually appears to be near the upper right side.


Leisure Suit Larry II: Goes Looking for Love (in Several Wrong Places) (Egg id: 362)

Introducing Patti

At the end of the game Polyester Patti introduces herself as a new protagonist for Leisure Suit Larry 3.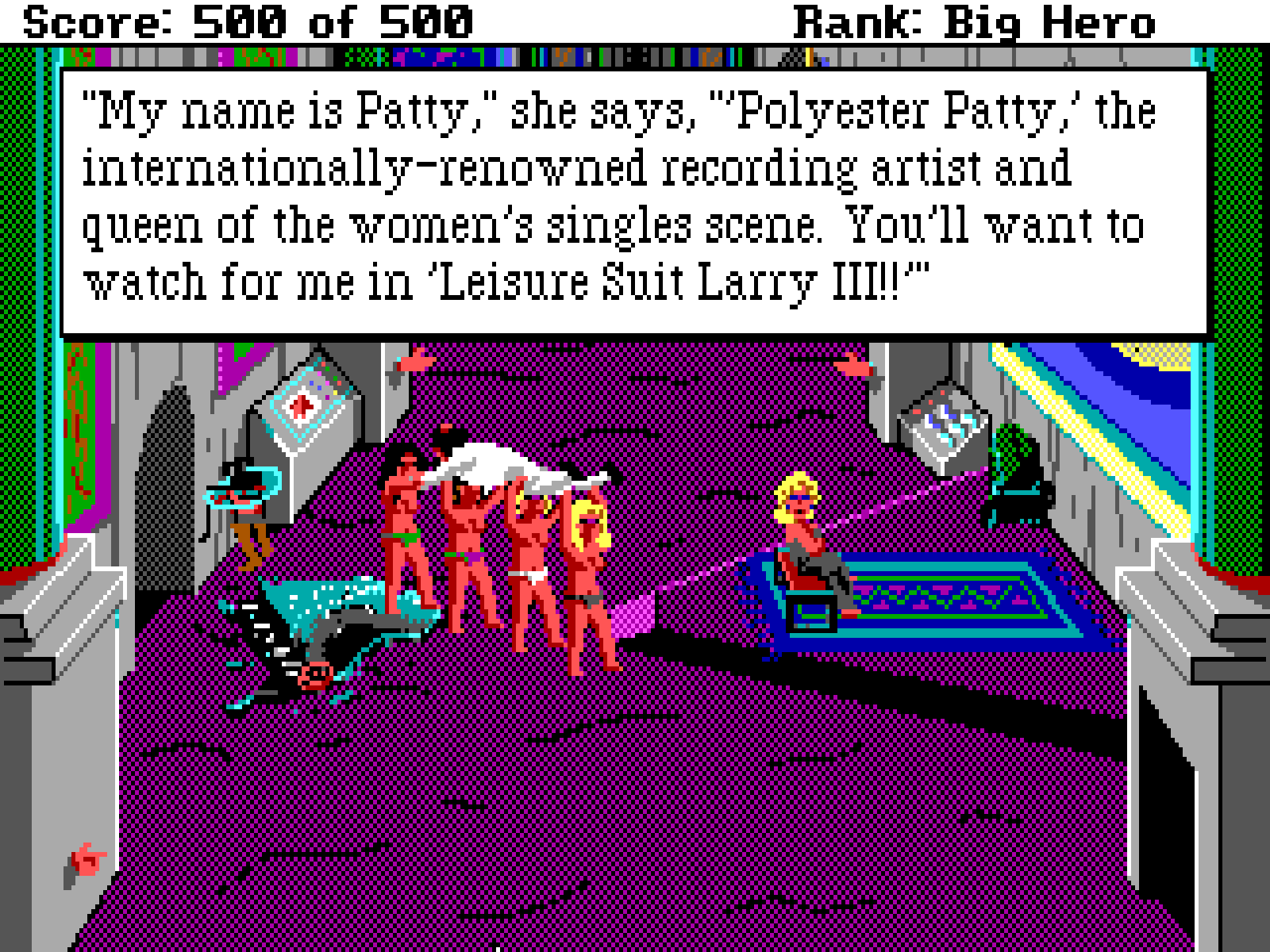 Police Quest II: The Vengeance (Egg id: 422)

In the homicide office, use your phone to call the Sierra Customer Support Line: (209) 683-6858.
When you call this number there is also a 30% chance that Al Lowe (designer of Leisure Suit Larry) answers the phone. He'll say the following:
Hi This is Al; Al Lowe.
Well, hello Sonny Bonds. I don't know how you got me --must have been a bad connection. But since you sound like a potential customer, let me tell you about a new game out.
I just finished a great game called Leisure Suit Larry Goes Looking for Love in Several Wrong Places (LL2 for short).
You'll love becoming Larry Laffer, who's a little bit like all of us - a jerk, a nerd, and a loser.
But you can help Larry improve his self-esteem by finding the girl of his dreams.
So how does it sound?
Well go to the nearest software store and buy a copy - the funniest and funnest game I've ever played - and I'm sure you'll like it just as much as I do.
If this sounds like a promo, it is. But then why else did you call me?
Please note though, that Leisure Suit Larry is NOT, I repeat NOT, based on my own personal experience.
I gotta go now. I'm working on my new game "Leisure Suit Larry III featuring Polyester Patty."
Oh, and by the way, "Have a nice day".


You can also call Sierra's BBS line (which tells that BBS is so popular that all 16 lines are busy): (209) 683-4463